Celebrating International Women's Day 2021 – meet Hannah Chalmers
Hannah Chalmers, discusses the work she's proudest of, and us why the women in her life are so important to her.
Published on 06 April 2021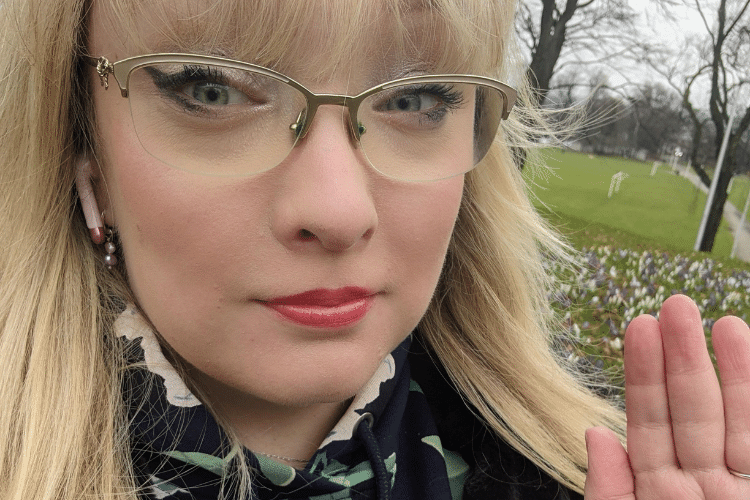 Our Marketing and Communications Officer, Hannah Chalmers, discusses the work she's proudest of – from equality and diversity projects to working on the NSS podcast. And she tells us why the women in her life are so important to her.
Tell us a bit about your career path
I have two degrees – English and Journalism and a Masters in Publishing Studies, both from the University of Stirling.
My role at NSS is my first proper graduate job. Before this, I worked in customer service in banking and retail.
Tell us about your current role at NSS
I started at NSS in 2018 via the disabled graduate scheme that NSS take part in with an organisation called Glasgow Centre for Inclusive Living.
Since then, I've fully integrated myself into the NSS Marketing and Communications team and secured a permanent position with the team in 2020.
What have been your main achievements in your current role?
As a disabled person, I'm particularly proud of the work I've done over the past three years for equality and diversity within NSS.
This ranges from supporting LGBT+ and Black History months to launching the reasonable adjustment passport back in 2019.
I'm also quite proud of my previous role as 'moderator' for the live Chief Executive events. And I'm privileged to do interviews for the NSS podcast regularly too.
How does NSS support women in the workplace?
Simply by being a fair organisation where those who identify as women are paid equally, treated with the respect we deserve and given the same opportunities to progress as men.
But I'd like to see more young women in leadership roles in NSS. And perhaps an employee group such as the ones we have for our LGBT+ and disabled colleagues too.
What does International Women's Day mean to you?
International Women's Day is a chance to reflect on the women in my life who made me the person I am today. My grandmothers, mum, sister, favourite auntie and the women in my friendship groups who have always pushed me and inspired me to achieve my goals in life.
I'm also lucky to be working in a predominantly female team so I'm surrounded by talented and hardworking women in NSS too.
But even after the century that's passed since the suffrage movement first came to light in the UK, we still need to improve the lives of women living in 2021.
My good fortune doesn't mean that others are blessed in the same way. So we need to keep the conversation going for our sisters in the community until we are all equal.