Double win for NSS at Scottish Health Awards 2021
Lisa Walker and Nabeel Arshad were named winners of the Young Achiever Award and Unsung Hero Award respectively
Published on 22 November 2021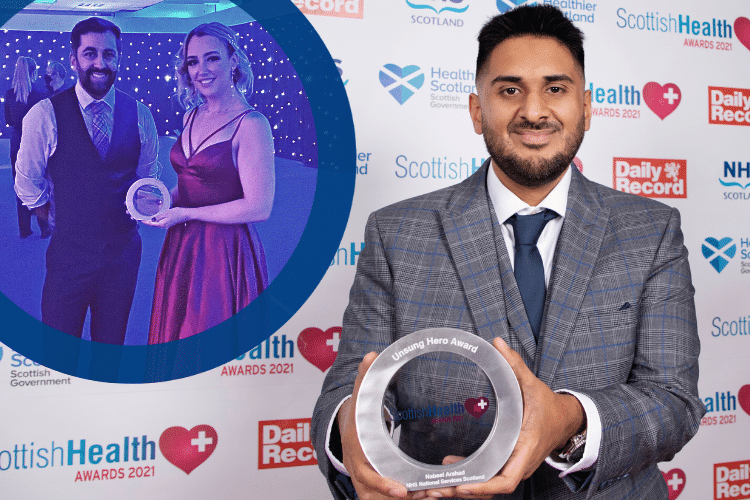 It was a double win for NSS at the Scottish Health Awards 2021, as two NSS colleagues, Lisa Walker, Marketing and Communications Manager and Nabeel Arshad, Senior Department Manager ServiceNow, were named winners of the Young Achiever and Unsung Hero categories respectively.
The Scottish Health Awards – which are run by the Daily Record in partnership with NHSScotland and the Scottish Government – are the most prestigious and recognised awards for health and social care workers in Scotland.
Lisa played a crucial role in establishing communications for the emergency temporary COVID-19 NHS Louisa Jordan hospital, while Nabeel's critical work on the digital side of contact tracing and the vaccination booking system played a huge part in tackling COVID-19.
Our Chief Executive Mary Morgan said: "Well done to all our finalists at the Scottish Health Awards. We're delighted to have two NSS winners this year: Lisa Walker and Nabeel Arshad. Congratulations to you both and thank you for your dedication and hard work. Your awards are truly well deserved."
Nabeel said: "The last 20 months have probably been the most challenging and rewarding in my career. Seeing colleagues, friends and family being positively supported by the digital solutions my team have developed has been extremely rewarding and phenomenal to see. I think everyone in NHSScotland is an unsung hero."
And Lisa, our Young Achiever 2021, had this to say: "The NHS Louisa Jordan was a cornerstone of Scotland's COVID response, and it was a pleasure to be part of the communications team there. The Young Achiever award wouldn't be possible without the incredible leaders in the NHS who facilitate and allow young people to flourish."
Congratulations also to our other excellent NSS finalists – the NSS COVID-19 Testing Operations Team, also nominated for the Unsung Hero category, and the National Notification Service Team who were finalists in the Innovation category.
Caroline Lamb, Director General Health and Social Care and Chief Executive Officer for NHSScotland said: "Congratulations to all the winners of last night's Scottish Health Awards. Thank you for your exceptional effort and for showing us we can do great things even in a very difficult time.
"To the finalists, I would also like to say well done and thank-you. You were nominated by the people you care for or those you work with, and this is recognition of the role you are playing in delivering healthcare in your community.
"And, to those of you who have not been involved in the awards, I would like to thank you too. Each one of you deserves recognition for the exceptional effort you are putting in to get us through this pandemic."