NSS celebrates International Women's Day
We're celebrating International Women's Day by interviewing women from across our organisation, who discuss their roles, their achievements and more.
Published on 15 April 2021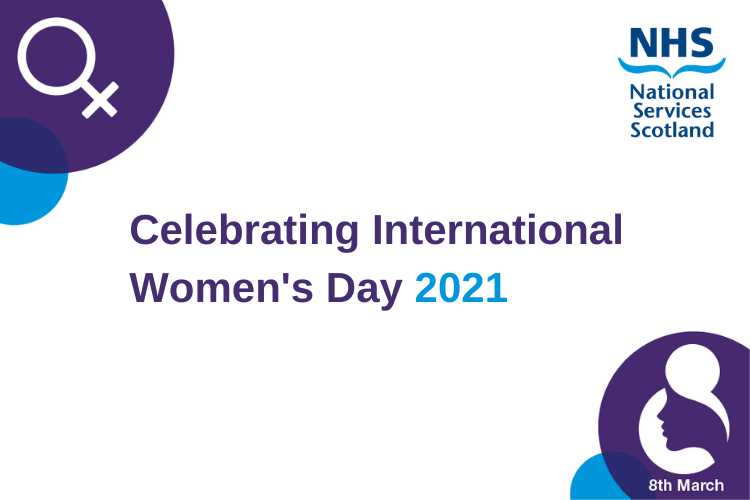 This year, we're celebrating International Women's Day by asking those who identify as women to share their experiences and their unique perspectives with us.
We interviewed a number of colleagues from across our organisation to discuss their roles, achievements and challenges, and why International Women's Day is so important.
Dr Nicola Steedman, our Medical Director for Procurement, Commissioning and Facilities, is currently seconded to the Scottish Government as Interim Deputy Chief Medical Officer.
She tells us about the challenges she's faced as a woman in her chosen field and how she's overcome them.
Hannah Chalmers, our Marketing and Communications Officer, discusses the work she's proudest of – from equality and diversity projects to working on the NSS podcast. And she also lets us know why the women in her life are so important to her.
Jessica Henderson is a National Programme Director within Strategy, Performance and Service Transformation.
Find out how she went from studying to be a lawyer to leading a team playing a crucial role in the Scottish coronavirus (COVID-19) response.
Shruti Babre is Senior Information Manager in the National Strategic Networks (National Services Division).
Read her interview to find out how our leaders at NSS have implemented a caring culture for women.
Marie-Anne Fisher is a Programme Director leading the team that are delivering the digital coronavirus support applications.
Find out about some of the proudest moments of her role so far, including when people tell her they got their vaccination letter.
Megan Rowley is a Consultant in Transfusion Medicine who works within our Scottish National Blood Transfusion Service.
Read how she made the decision to pursue transfusion medicine and why she thinks NSS is a great place to work.
Moira MacKirdy discusses her role as PA to Finance Director, Carolyn Low, and her experience of NSS so far since joining the team in 2020.
Eilidh McLaughlin is an Associate Director within Information Security and Governance.
Eilidh talks about her career path, how proud she is of her team's response to the pandemic, and what International Women's Day means to her.
Sarah Biggerstaff is a Portfolio Manager within Programme Management Services, who believes people should be able to achieve whatever they want regardless of gender.
Find out more about why Sarah volunteered to share her story for International Women's Day.